General Secretary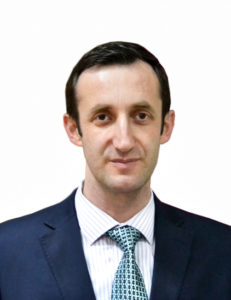 The General Secretary of the Interreligious Council of Albania is Dr. Genti Krujaelected on October 22, 2018 by the Council of the Presidency for a three-year term.
Dr. Genti Kruja graduated in 2003 in Sociology at Istanbul University, Istanbul's Faculty of Social Sciences. In 2007 he completed the Master of Science and Technology at the University of Tirana, the Sociology-Philosophy branch on "Dialogue and Interfaith Tolerance: Performance and Challenges". In 2015 he has completed doctoral studies at the University of Tirana, Faculty of Social Sciences, Philosophy branch, on intercultural dialogue.
Over the last few years, through various programs, it has made possible cooperation with several local and international organizations to organize promotional events of the values of the dialogue, with which have been organized several symposiums at the same time national and international conferences.
Genti Kruja is the author of the book "Albanians facing the challenges of interfaith understanding", co-author of several books and editor of many other books.
From 2003-2005 he was director of the Publishing House "Prizmi" and an external editor in the newspaper "Drita Islame", a part of AMC.
In 2005-2010 he has served as the Director of Human Resources in the Muslim Community of Albania
In 2010-2016 he was Director of Culture and Interreligious Dialogue at AMC.
In the years 2014-2016 he was also director of "Drita Islame" magazine,
as well as from 2012 he is also the editor of the "Zani i Naltë" scientific journal, founded in 1923 and re-established in 2012 on the occasion of the 100th anniversary of independence.
He is also a member of the Institute of Sociology.
Beginning in January 2017, Dr. Genti Kruja is the Head of the Department of Islamic Sciences and since 2013 is a lecturer in Sociology and Sociology of Religion at Bedër University College, as well as an external expert in profiles: Sociology, Philosophy, Theology, Religious Studies and Interreligious Dialogue.
Sharing is caring!