History of the Interreligious Council of Albania

Këshillit Ndërfetar i Shqipërisë është themeluar më 25 tetor 2007 nga katër krerët e komuniteteve tradicionale fetare në Shqipëri, H. Selim Muça, Fortlumturia e tij Anastas Janullatos, Mons. Rrok Mirdita dhe H. Dede Reshat Bardhi, si dhe është regjistruar në Gjykatën e rrethit Tiranë. Në mbledhjen e Këshillit të Presidencës me dt. 22.10.2018 është miratuar dhe anëtarësia me të drejta të plota edhe e Vëllazërisë Ungjillore të Shqipërisë, duke u bërë komuniteti i pestë fetar në KNFSH.
The Interreligious Council of Albania was inaugurated on October 22, 2009 in the presence of the then President of the Republic of Albania, Prof. Dr. Bamir Topi, who said "It (IRCA) marks the institutionalization of religious tolerance in Albania. This is our common value and our rare virtue, which we will not only export wherever we can, but we will gladly share it with other countries and peoples around the globe. That is why I am here today; not only to celebrate the establishment of a Council so necessary and beneficial to themaintenance of interfaith relations in our country, but also to assure you of my unwavering personal and institutional support for this valuable and significant undertaking, in service of peace, welfare, coexistence and interfaith tolerance".
At the promotional activity of IRCA establishment, clergymen from all religions assessed the council as an organism which will coordinate regional activities on the problems religious coexistence.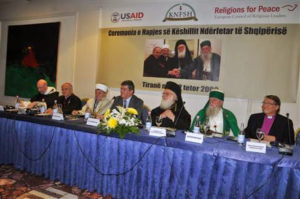 The chairman of Albania's Muslim Community, H. Selim Muça, said in his speech that attitude towards religions "is not a standpoint or an indication of competition and domination, but a coexistence relationship in service of the society".
For the head of the Orthodox Church in Albania, Archbishop Anastasios Janullatos, "Everyone, Christians and Muslims should work for coexistence as it brings societal progress. Forgiveness and reconciliation cannot be products of a political factor, since religious communities are irreplaceable."
In addition to participating in several international conferences, Albania's Interreligious Council has often appeared in press releases on common issues in the interests of society and in the defense of universal values and in the promotion of interfaith dialogue.
Në takimin e dt. 22.10.2018, drejtuesit më të lartë të komuniteteve fetare të Shqipërisë kanë zhvilluar një mbledhje në Selinë e Komunitetit Mysliman të Shqipërisë, ku janë marrë disa vendime të rëndësishme, lidhur me mirëfunksionimin dhe disa ndryshime statuore të Këshillit Ndërfetar të Shqipërisë. Një prej vendimeve të marra ishte edhe anëtarësimi me të drejta të plota në KNFSH të Vëllazërisë Ungjillore të Shqipërisë.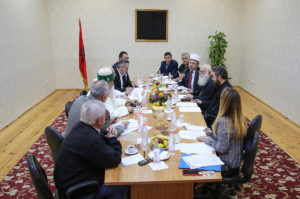 This meeting was attended by H. Skender Bruçaj, chairman of the Muslim Community of Albania, His Beatitude Anastasios Janullatos, head of the Albanian Autocephalic Orthodox Church, Mons. George Frendo, head of the Albanian Bishops' Conference, H. Dede Edmond Brahimaj, head of the World Bektashi Headquarters, and Pastor Ylli Doçi, head of Albania's Evangelical Alliance.
During the meeting, in addition to statutory changes, decisions were made in terms of institutional management of Interreligious Council, which is composed of the Presidency Council, the Executive Council and the Secretary General.
The highest decision-making body of IRCA Center is the Presidency Council, which consists of the member religious communities' chairmen and members of the Center. The Executive Council consists of two representative members from each community.
The Chairmanship of the Presidency Council rotates among the IRCA member religious communities every year. For 2019, the Chairman of the Presidential Council was appointed the head of the Autocephalous Orthodox Church of Albania, His Beatitude Anastasios Janullatos, while Secretary General was elected Dr. Genti Kruja, with a three-year mandate.
Sipas statutit, në rast ndryshimit të kryetarit të secilit komunitet fetar, kryetari i ri automatikisht është dhe anëtar i Këshillit të Presidencës. Me këtë rast pas zgjedhjeve në Komunitetin Mysliman të Shqipërisë në mars 2019, kreu i ri i KMSH-së H. Bujar Spahiu është dhe anëtar i Këshillit të Presidencës të KNFSH-së, konfirmuar dhe në mbledhjen e KNFSH-së më 16 prill 2019.
The Interreligious Council of Albania has as its mission to promote interfaith dialogue and harmony through joint projects and activities.
Më 25 tetor 2018, Këshilli Ndërfetar i Shqipërisë është vlerësuar me çmimin "De Mello për të Drejtat e Njeriut" në Krakov, Poloni. Në ceremoninë e zhvilluar me këtë rast, ky çmim iu akordua pesë udhëheqësve të komuniteteve fetare në Shqipëri, me motivacionin "Për Vëllazërinë Ndërfetare në Shqipëri". Çmimi "De Mellon për të Drejtat e Njeriut", jepet çdo vit për individë, apo personalitete që përfaqësojnë kauza në të mirë të shoqërisë së përbashkët.
KNFSH është anëtar me të drejta të plota në organizatën ndërkombëtare "Fetë për Paqen" (Religions for Peace).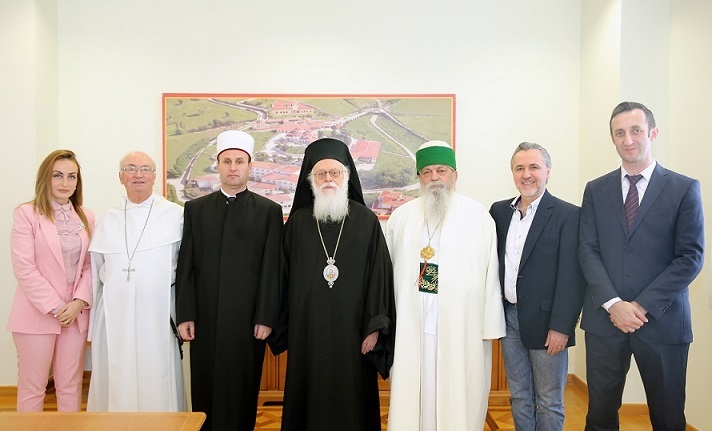 Sharing is caring!